More on tourism arrivals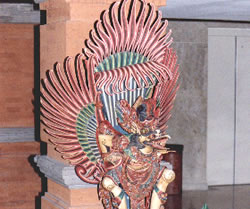 This is a garuda, a winged dragon, Vishnu's steed. Now Vishnu is one of the three deities who are Sanghyang Widhi Wasa when they get together. Someone called Micha Lindemans put this onto the internet, referring to S. Widhi Wasa:
"All-In-One God," a term invented by early Christian missionaries to describe, for conversion purposes, the biblical 'God the Father' to the polytheistic Balinese people. However, the concept of an 'All-In-One God' was already inferred by Hinduism but remained unnamed and ineffable since to name and thus identify the All-In-One (particularly by gender) was seen as 'limiting the unlimited.' In art, Sanghyang Widhi Wasa is based on the Hindu Trimurti of Brahma, Wisnu, and Siwa.

Indonesia's national airline Garuda is offering 5,000
free tickets
to Bali "mostly from Australia and Japan, to be distributed by travel agents or a lottery. Another 5000 tickets will be given to Malaysians and a further 5000 to domestic tourists." Why? Australia's Radio National's Asia Pacific has
these statistics
:
"Antara newsagency cites statistics from Bali's immigration office, which says 163,221 international visitors arrived in September - a daily average of 5,444.

However, between October 1 and October 16, only 45,000 foreign tourist arrivals were registered - a daily average of just 2,812."